Psychotherapy — sometimes called 'talk therapy' — is professionally-facilitated conversation that heals.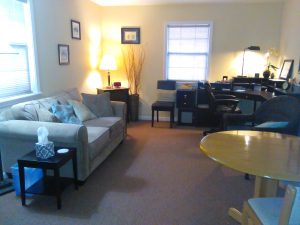 Your first session may be as long as 90 minutes, and subsequent sessions are 50 minutes. At this time, sessions are only held remotely for clients in Texas, via either video or phone (your choice.) Clients in the state of Washington can be seen in-person or remotely.
Therapy Services
Assessment: In our first 1 or 2 sessions, I'll ask questions to help me know you and how I may be of service to you.
Individual Therapy: During sessions with one individual, the conversation can vary from exploring your thoughts & feelings, to being a space for you to vent or process out loud, to learning new skills & considering new ideas — and more!
Relationship Therapy: When intimate partners attend a session together, the conversation can become more complex, sometimes require more gentle direction from me, and lead to new ways of relating to and connecting with each other.
Group Therapy: Sessions with other individuals or other couples who are not family members but who share a concern or challenge can provide opportunities to hear even more possibilities, often leading to more rapid emotional growth.
Family Therapy: For family members who are struggling to manage life transitions of all kinds, spending time with a professional counselor in the conversation can open windows of ideas and promote hopefulness and resolution.
---
Rates & Insurance
My regular therapy session rates:
Individual (one person) session:
60-90 minute Initial session, $125
50 minute Follow-up session, $110
Relationship (couples, partners, friends, family together) session:
60-90 minute Initial session, $140
50 minute Follow-up session, $125
I currently accept the following insurance:
Aetna
BCBS
Optum (under some United, Aetna, Oscar plans)
Ambetter
(You are NOT required to use your insurance.)
For those without insurance coverage or who choose to not use their insurance — if my regular rates would prevent you from meeting your wellness needs, please let me know. I'm a co-founder of Affordable Counseling Collaborative Associates, a network of licensed professionals who offer low-fee therapy.
Also, on your request, I can provide a "superbill," a document you can send your insurance company to request out-of-network reimbursement.