This time of year often makes our pre-existing pains loom larger, sometimes to the point of feeling overwhelmed by sadness. If you've been "dealing with grief" in the usual ways (you know, "the 5 Stages of Grief" etc…) — Now is the time to upgrade your tools.
Did you know that the person who came up with those "5 Stages" was really talking about the experience for the dying, and not what it's like to be a grieving survivor? It's yet another example of how our consumer society took a complex psychological topic and over-simplified it to the point of not just being off-track but even destructive. 
How many people have talked with me about feeling like they 'must be broken' because those "5 Stages" don't seem to happen in order, or come along at all, or feel never-ending…
If you've lost loved ones, you know that Grief Does NOT End. But how do we keep going if that's true (and it is…)?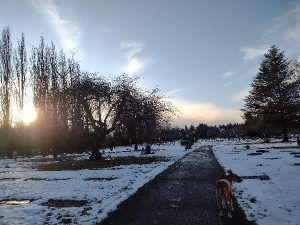 First, above all, remain open to new ideas about Grieving. Even "experts" are simply humans who have made the time and paid the prices to study something a lot. Not just regarding Grief, but virtually all psychological ideas should be held lightly with a dose of skepticism, even when they ring true to our minds. Just give it all another decade or two, and you'll see how new thoughts shift research, and vice versa.
Next, as for grieving itself, try this up-and-coming perspective: Grief is a lifelong process that changes shape over time and can enrich our lives.
You can read part of Hope Edelman's book "The AfterGrief" here, but I also really recommend listening to the interview with her recorded in 2020. (It's only 10 minutes long!) 
More than simply a rote list of how-to-heal tips, Edelman explains how the concept of "Grief" was created and changed by society and culture – and how that then impacts those of us who are grieving and our expectations.
Edelman proposes that there only 2 "stages of grief": "…the one where you feel really bad, and the one where you start feeling better." She calls this second stage "the AfterGrief," saying it extends for the rest of our lives.
Her work here is an excellent example of social constructionist psychology, a theoretical perspective that heavily informs my own psychotherapy practice.
If you'd like to dive a bit deeper into the social construction of grieving, here's a 20-minute long interview on HealGrief.org with Robert Neimeyer PhD, director of the Portland Institute for Loss and Transition and someone at the forefront of re-shaping our understanding of grief and meaning. 
Importantly, all students of grief and grieving agree that it is best done with others. Whether that's a formal or informal group of peers, psychotherapy, or simply a personal confidante or two, the human species is wired to connect to others in our temporary existence.  
Here's to achieving post-loss growth and deepening peace, for all.